Profile Elevation Map for Great Allegheny Passage and C&O Canal Towpath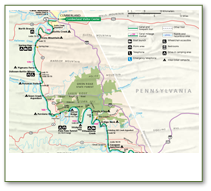 When looking at this profile elevation map, keep in mind that the change in elevation between Washington, DC and Cumberland, MD is a mere 610' and the change in elevation between Cumberland, MD and Deal, PA, the highest point on the trail, is about 1,800' over 23 miles, a grade of just 1%. It looks like a steep wall in the profile map, because the elevation change is comparatively large, when compared with the nearly flat C&O Canal Towpath. Elevation gain going either direction is erased after the high point on the trail. Going east out of Pittsburgh, the rise occurs over 125 miles and the descent to Cumberland, over 23 miles (with another 610' descent over the last 184 miles to Washington, DC). Going west out of Cumberland, the rise occurs over 23 miles (after rising just 610' over the first 184 miles out of Washington), and the descent occurs over 125 miles into Pittsburgh. Neither direction is ever considered steep, with the maximum grade being 1% east of the eastern continental divide, and .8% west of the Eastern Continental Divide.

What Are The Cycling Routes Like?
Level. Packed dirt and crushed stone surface. 6-8 feet wide. The section between Cumberland and the Eastern Continental Divide is a railroad grade incline, but it is still a gradual and tolerable ride. It looks large on the profile map, however, stretched out to a longer scale, it is obvious that the rest of the trail is very flat, and the climb is not so steep. Tours are conducted mostly off-road, with no traffic to contend with. There are occasional segments that are on-road, where detours are required. The surface varies between the C&O Canal and the GAP trails, with the GAP being a smooth, hard packed, crushed limestone surface, and the C&O being a bumpier, more rustic and original trail surface. Most tours we offer on rail-trails will have surfaces like the C&O Canal towpath.